Articles | Volume 3, issue 4
https://doi.org/10.5194/wcd-3-1439-2022
© Author(s) 2022. This work is distributed under
the Creative Commons Attribution 4.0 License.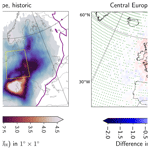 European heatwaves in present and future climate simulations: a Lagrangian analysis
Heatwaves are prolonged periods of anomalously high temperatures that can have devastating impacts on the environment, society and economy. In recent history, heatwaves have become more intense and more numerous over most continental areas, and it is expected that this trend will continue due to the ongoing global temperature rise. This general intensification may be modified by changes also in the underlying thermodynamical and dynamical processes. In order to study potential changes in heatwave characteristics and dynamics, we compare Lagrangian backward trajectories of airstreams associated with historic (1991–2000) and future (2091–2100) heatwaves in six different European regions. We use a percentile-based method (Heat Wave Magnitude Index daily) to identify heatwaves in a large ensemble of climate simulations (Community Earth System Model Large Ensemble (CESM-LE) with 35 members). The simulations have been forced by historical representative concentration pathways (RCPs) up to 2005 and by the RCP8.5 scenario afterwards. In general, we find that air parcels associated with heatwaves are located to the east or inside the respective regions 3 d prior to the events. For future heatwaves, the model projects a north-/northeastward shift of the origin of the air masses in most study regions. Compared to climatological values, airstreams associated with heatwaves show a larger temperature increase along their trajectory, which is connected to stronger descent and/or stronger diabatic heating when the air parcels enter the boundary layer. We find stronger descent associated with adiabatic warming in the northern, more continental regions and increased diabatic heating in all regions (except of the British Isles) in the simulated future climate. The enhanced diabatic heating is even more pronounced for heatwaves over continental regions. Diabatic temperature changes of near-surface air are driven by sensible heat fluxes, which are stronger over dry soils. The amplified diabatic heating associated with future heatwaves may thus be explained by an additional drying of the land surface.
Received: 01 Aug 2022 – Discussion started: 17 Aug 2022 – Revised: 24 Nov 2022 – Accepted: 04 Dec 2022 – Published: 22 Dec 2022
Heatwaves can have huge socioeconomic impacts including an increased mortality (Guo et al., 2017), an enhanced risk of wildfires due to hot and dry conditions accompanying heatwaves (Jones et al., 2020), crop failures in connection with droughts (Zampieri et al., 2017), and damage to the flora in general (Breshears et al., 2021). Impacts to the water, transport and energy infrastructures can lead to tremendous economic losses that are expected to increase in the future (see Forzieri et al., 2018, who studied these impacts for Europe). In their Sixth Assessment Report, the Intergovernmental Panel on Climate Change (IPCC) states that "hot extremes (including heatwaves) have become more frequent and more intense across most land regions since the 1950s" (IPCC, 2021). Due to the expected ongoing rise in the global mean temperature in the 21st century, this progress is expected to continue (Meehl and Tebaldi, 2004). It is therefore of general interest to study the differences between historic and future heatwaves. Understanding changes in their dynamics, variability and underlying processes can further help to quantify future changes in heatwave occurrence and to take measures to protect against their impacts.
In general, heatwaves are long periods of unusually high temperatures (Perkins and Alexander, 2013). However, there is no common, global heatwave definition, and thresholds differ from region to region due to locally different climates. Heatwave identification can be based on absolute or relative thresholds of a certain temperature measure, for example, the daily maximum or minimum temperature (see, e.g., Perkins and Alexander, 2013; Perkins, 2015, for a discussion of different heatwave definitions). Absolute thresholds are fixed and therefore do not account for a general increase in mean temperatures. Hence, an increase in global mean temperature will naturally lead to a higher number of identified heatwave events if these thresholds are not adjusted to the new climate. Indeed, Vogel et al. (2020) observe an increase in heatwaves for fixed temperature thresholds, but they only see relatively small changes for moving, i.e., temporally varying, thresholds. In order to investigate future changes in heatwaves beyond mean climate warming, we will take a relative, percentile-based threshold (after Russo et al., 2015) that is adapted to the respective climate. This allows for the identification and comparison of heatwaves in different (European) regions, climates and time slices with different background temperatures.
Dynamically, heatwaves are linked to quasi-stationary atmospheric blocking patterns (e.g., Pfahl and Wernli, 2012, who showed this relationship for the Northern Hemisphere) or extended ridges (Sousa et al., 2018). Such anticyclonic circulation anomalies lead to the buildup of warm temperature extremes in summer due to the associated subsidence and adiabatic warming, the clear-sky conditions that lead to surface heating by solar radiation, low wind speeds and warm-air advection (Meehl and Tebaldi, 2004; Pfahl, 2014; Bieli et al., 2015; Zschenderlein et al., 2019; Kautz et al., 2022). Moreover, soil-moisture–atmosphere feedbacks enhance the heating of lower tropospheric air in the planetary boundary layer due to the increase in sensible heat fluxes and decrease in latent heat fluxes associated with reduced soil moisture content during (prolonged) drought and heatwave conditions (Fischer et al., 2007; Seneviratne et al., 2010; Stéfanon et al., 2014; Miralles et al., 2019).
Several previous studies have shown that detailed insights into the processes leading to hot extremes and heatwaves can be obtained from a Lagrangian description of the associated air mass trajectories (Bieli et al., 2015; Santos et al., 2015; Quinting et al., 2018; Schumacher et al., 2019; Zschenderlein et al., 2019, 2020; Catalano et al., 2021). Such a Lagrangian approach allows for differentiating between thermodynamic and dynamic contributions to the warming of air masses. Investigating 10 d backward trajectories initiated close to the surface, Bieli et al. (2015) found that hot events are connected to strong adiabatic and diabatic warming but only to weak northward transport of warm air from the south towards their European study regions (British Isles, Central Europe and the Balkans region). Furthermore, Bieli et al. (2015) found that hot extremes in the regions closer to the ocean (British Isles and Balkans) are often dominated by dynamical processes, i.e., adiabatic warming due to descent, while in their continental region (Central Europe) local, diabatic heating by surface fluxes is more important. Zschenderlein et al. (2019) extended the Lagrangian investigation to six different European regions and additionally clustered the trajectories with respect to the prevailing diabatic warming or cooling and strong or weak descent occurring along the air parcel trajectories. They confirmed the finding of weak horizontal transport associated with heatwaves. Schumacher et al. (2019) used backward trajectories to show that heatwaves can be intensified due to enhanced sensible heat fluxes in upwind regions affected by drought conditions.
The above-cited Lagrangian heatwave studies focused on the analysis of past events based on reanalysis data and did not investigate potential future changes in these Lagrangian dynamics. In principle, future changes in heatwaves beyond the mean climate warming may be due to changes in the associated atmospheric dynamics (e.g., varying transport patterns or adiabatic warming) or thermodynamics (e.g., altered sensible heating near the surface). Schaller et al. (2018) and Brunner et al. (2018) showed that the link between atmospheric blocking and European heatwaves appears to be relatively stable in ensemble simulations of future climate, suggesting that dynamical changes might be of minor importance. Also Vogel et al. (2020) concluded that future changes in heatwaves are mainly driven by thermodynamic processes and changes in the underlying atmospheric dynamics are small. Rasmijn et al. (2018) hypothesize a disproportional intensification of future (continental) heatwaves in Western Russia due to amplified sensible heating linked to soil moisture feedbacks.
In this study, a detailed Lagrangian analysis of future changes in the processes associated with European heatwaves is presented. In particular, we investigate the following research questions:
How will the atmospheric transport patterns associated with European heatwaves change in a warming climate?

Will changes in thermodynamic or dynamic processes lead to an amplification of heatwaves beyond mean warming?
Since heatwaves are rare events, we use an ensemble data set of climate simulations with 35 members to increase the number of heatwave events in a historic (1991–2000) and a future (2091–2100) time slice. The data and methods including the definition of the regions and the identification of heatwaves are described in Sect. 2. The results are presented and discussed in Sect. 3, followed by a summarizing discussion and conclusion in Sect. 4.
In this section, we give an overview of the data used (Sect. 2.1) and define the six European study regions (Sect. 2.2). The heatwave identification follows the work of Russo et al. (2015) adapted to the ensemble data and is described in Sect. 2.3. Finally, the trajectory calculations and clustering using the Lagrangian tool LAGRANTO (Sprenger and Wernli, 2015) are described in Sect. 2.4.
We first provide a general overview of the temperature increase in Europe expected under RCP8.5 conditions in Sect. 3.1. Afterwards we compare general heatwave properties in historic and future simulations. A first impression of changes in the associated dynamics is given by composite plots of the 500 hPa geopotential height level during heatwave onsets (Sect. 3.2). We then analyze the origins of the different air parcel clusters associated with historic and projected future heatwaves, also in comparison to the climatology (Sect. 3.3). Finally, we take a closer look at future changes of dynamic and thermodynamic properties of the Lagrangian backward trajectories (Sect. 3.4).
4
 Discussion and conclusions
In this work, we have analyzed dynamical and thermodynamical mechanisms associated with European heatwaves and their projected future changes based on Lagrangian air parcel trajectories. In order to properly cover the influence of natural variability, heatwaves are identified in a large single-model ensemble of climate simulations (CESM-LE data with 35 members, Kay et al., 2015) for two time slices, 1991-2000 (historic) and 2091–2100 (RCP8.5), based on the Heat Wave Magnitude Index daily (HWMId) – a percentile-based method introduced by Russo et al. (2015). This percentile-based index allows for a comparison of heatwaves in both time slices with each other since it relates the heat event to the underlying climatology and hence accounts for an expected anthropogenic temperature increase in the future. Moreover, the Lagrangian analysis permits the investigation of the origin of near-surface air masses associated with heatwaves and the study of the thermodynamic processes along their transport pathways. Our main goals have been to investigate the role of dynamic and thermodynamic aspects of heatwaves and how these might change in the future. In the following, we summarize and briefly discuss our main results, also in comparison to recent literature.
Minor changes in the general heatwave characteristics in most European regions. The percentile-based identification of heatwaves via the HWMId is – as expected – remarkably robust in both time slices with respect to the number of heatwave days and the heatwave duration in all regions, except for BI, where an increase in the number of consecutive heatwave days is projected. This is also in accordance with Vogel et al. (2020), who state that "for fully moving thresholds, no or only very few significant changes in heatwave characteristics with increasing warming levels are projected". Additionally, we observe a significant, albeit small, shift of the heatwave peak towards the end of July and beginning of August in BI, CE, and IP and a significant, but small, narrowing of the heatwave season in CE, GI and WR.

Origins of heatwave near-surface air. In general, the core origin regions of the near-surface air masses that contribute to the heatwaves lie to the east of the respective region 3 d prior to the heatwave. More precisely, these core regions are located southeast of the northerly subregions and northeast of the southerly subregions (and in GI even partially to the west). This is in broad agreement with Zschenderlein et al. (2019), who, however, found higher trajectory densities within the region affected by the heatwave itself. Nonetheless, our results also indicate that the air is located close to the analyzed region where the heatwave occurs and is not advected from remote (warmer) regions. This is in line with Bieli et al. (2015), who also found short transport distances for heatwave-related trajectories. In comparison to the climatological transport pathways of near-surface air in summer, the heatwave air parcels origin closer to the regions of interest a few days prior to the heat event and travel slower. Furthermore, the model projections indicate a northward shift of heatwave-associated air parcel origins 3 d prior to the heatwave in the simulated future climate, with higher densities mainly north of and inside (BI, CE) the regions and reduced densities to the south of (and inside for IP, GI) the respective regions. This northward shift in the future can also be seen in the JJA climatology of most regions, however with smaller magnitude, such that the changes in the climatological parcel origins are mostly very small.

Projected changes in dynamic and thermodynamic air parcel properties relevant for future heatwaves. Our main findings show a diverse picture of changes in future heatwave characteristics across Europe. In some European regions such as Sc, CE and WR, we find a stronger temperature increase on heatwave days than would be expected because of the increase in mean summer temperature alone. This indicates that additional dynamic or thermodynamic processes amplify the intensification of heatwaves in some parts of Europe. Indeed, in these regions the subsidence during heatwaves is projected to increase in the future simulations, especially in the last 2–5 d prior to the arrival in the heatwave region, which is associated with amplified adiabatic warming. Moreover, in all regions except for BI the diabatic heating is projected to intensify. The latter affects air parcels located near the surface, and such boundary-layer diabatic temperature changes are likely driven by sensible heat fluxes that are enhanced when heatwaves co-occur with larger soil moisture deficits, especially in plain regions (Stéfanon et al., 2014; Schumacher et al., 2019). During heatwaves, the land surface can be expected to become drier in the future (Seneviratne et al., 2010); thus, the amplified diabatic heating may be due to an increase in the Bowen ratio, as also suggested by, e.g., Rasmijn et al. (2018) for WR. Additionally, the enhanced land–sea temperature contrast in a warming climate may play a role for this increased diabatic heating, as many air parcels move from the ocean towards the continent and thus directly experience this enhanced contrast. However, this change in land–sea temperature difference cannot fully explain the amplification of heatwaves beyond the seasonal mean warming projected in some regions, and it is also not totally independent of the surface drying mechanism mentioned before, as changes in continental temperature and humidity in a warming climate are coupled to each other (Byrne and O'Gorman, 2018).
A caveat of our analysis is that it is based on a single climate model only. However, we need high-resolution output on model levels for our trajectory calculations, and hence these analyses cannot easily be performed based on other model simulations, e.g., from the CMIP6 archive. Nevertheless, our comparison with the results of Zschenderlein et al. (2019), whose analysis is based on ERA-Interim reanalysis data, indicates that CESM1 captures the basic dynamics of European heatwaves reasonably well, which gives confidence in the corresponding future projections.
Finally, we want to add some final remarks with regard to the recent summer 2022 heat records. On 19 July 2022, Great Britain reported 40.2 ∘C at Heathrow Airport, London (Carrington, 19-). In the CESM-LE simulations presented here, the BI distribution shows maximum temperatures of up to 37 ∘C in the historic time slice (1991–2000) and up to about 48 ∘C in the future time slice (2091–2100). Assuming a linear increase, Heathrow's temperature record lies at the upper end of the expected range for the 2020s, which is also in accordance with the work of Christidis et al. (2020), who showed that events like the heatwave in July 2022 are possible but rare and will increase towards the end of this century. This shows that heatwaves are already changing in the direction as projected for the end of the century by CESM-LE and other global climate models. Our results provide guidance for upcoming changes in heatwave characteristic that could be used to improve adaptation measures for future heat events.
In summary, we have identified thermodynamic as well as dynamic contributions that are relevant for the future amplification of heatwaves in different European regions. In particular for Scandinavia, Central Europe and Western Russia, these processes lead to an increase in heatwave temperatures beyond the mean summer warming. Part of this amplification is due to increased diabatic heating in the boundary layer, which is likely linked to surface drying and enhanced sensible heat fluxes. Additionally, the excess heating is related to altered atmospheric dynamics, in particular enhanced descent of the air masses leading to stronger adiabatic warming in the simulated future climate, which is in some contrast to previous findings by Vogel et al. (2020), who suggested that changes in dynamics should be of minor importance.
The presented work provides a comprehensive overview of the range of future changes in heatwave characteristics in different European regions from a Lagrangian point of view and can serve as a starting point for further research. Nevertheless, the topic still needs further investigations, e.g., with respect to the robustness of the findings in other climate models.
Code and data availability
LS and SP designed the study. LS produced the results and figures. LS and SP discussed the results and both contributed to the writing.
At least one of the (co-)authors is a member of the editorial board of Weather and Climate Dynamics. The peer-review process was guided by an independent editor, and the authors also have no other competing interests to declare.
Publisher's note: Copernicus Publications remains neutral with regard to jurisdictional claims in published maps and institutional affiliations.
This article is part of the special issue "Past and future European atmospheric extreme events under climate change". It is not associated with a conference.
The authors would like to thank the HPC service of ZEDAT, Freie Universität Berlin (HPC system Curta; see Bennett et al., 2020, for details), for providing computational resources. Furthermore, we are grateful to Urs Beyerle (ETH Zurich) for performing the CESM-LE reruns and to Matthias Röthlisberger (ETH Zurich) for helpful discussions. We thank two anonymous reviewers and the editor for their helpful comments.
This research has been supported by the German Federal Ministry of Education and Research (Bundesministerium für Bildung und Forschung, BMBF) in its strategy Research for Sustainability (FONA) in the framework of subproject A5 of the ClimXtreme program (DynProHeat, grant no. 01LP1901C).
This paper was edited by Tim Woollings and reviewed by two anonymous referees.
Atmospheric Dynamics Group, Institute for Atmospheric, and Climate Science, ETH Zürich: LAGRANTO The Lagrangian Analysis Tool, https://iacweb.ethz.ch/staff/sprenger/lagranto/download.html (last access: 20 December 2022), 2020. a
Bennett, L., Melchers, B., and Proppe, B.: Curta: A General-purpose High-Performance Computer at ZEDAT, Freie Universität Berlin, https://doi.org/10.17169/refubium-26754, 2020. a
Bieli, M., Pfahl, S., and Wernli, H.: A Lagrangian investigation of hot and cold temperature extremes in Europe, Q. J. Roy. Meteorol. Soc., 141, 98–108, https://doi.org/10.1002/qj.2339, 2015. a, b, c, d, e
Breshears, D. D., Fontaine, J. B., Ruthrof, K. X., Field, J. P., Feng, X., Burger, J. R., Law, D. J., Kala, J., and Hardy, G. E. S. J.: Underappreciated plant vulnerabilities to heat waves, New Phytol., 231, 32–39, https://doi.org/10.1111/nph.17348, 2021. a
Brunner, L., Schaller, N., Anstey, J., Sillmann, J., and Steiner, A. K.: Dependence of Present and Future European Temperature Extremes on the Location of Atmospheric Blocking, Geophys. Res. Lett., 45, 6311–6320, https://doi.org/10.1029/2018GL077837, 2018. a
Byrne, M. P. and O'Gorman, P. A.: Trends in continental temperature and humidity directly linked to ocean warming, P. Natl. Acad. Sci. USA, 115, 4863–4868, 2018. a
Carrington, D.: Day of 40C shocks scientists as UK heat record "absolutely obliterated", https://www.theguardian.com/environment/2022/jul/19/day-of-40c-shocks-scientists-as-uk-heat-record-absolutely, last access: 19 July 2022. a
Catalano, A., Loikith, P., and Neelin, J.: Diagnosing Non-Gaussian Temperature Distribution Tails Using Back-Trajectory Analysis, J. Geophys. Res.-Atmos., 126, e2020JD033726, https://doi.org/10.1029/2020JD033726, 2021. a
Chan, D., Cobb, A., Zeppetello, L. R. V., Battisti, D. S., and Huybers, P.: Summertime temperature variability increases with local warming in midlatitude regions, Geophys. Res. Lett., 47, e2020GL087624, https://doi.org/10.1029/2020GL087624, 2020. a
Christidis, N., McCarthy, M., and Stott, P.A.: The increasing likelihood of temperatures above 30 to 40 ∘C in the United Kingdom, Nature Commun., 11, 1–10, 2020. a
Fischer, E. M., Seneviratne, S. I., Vidale, P. L., Lüthi, D., and Schär, C.: Soil Moisture–Atmosphere Interactions during the 2003 European Summer Heat Wave, J. Climate, 20, 5081–5099, https://doi.org/10.1175/JCLI4288.1, 2007. a
Forzieri, G., Bianchi, A., e Silva, F. B., Herrera, M. A. M., Leblois, A., Lavalle, C., Aerts, J. C., and Feyen, L.: Escalating impacts of climate extremes on critical infrastructures in Europe, Global Environ. Change, 48, 97–107, https://doi.org/10.1016/j.gloenvcha.2017.11.007, 2018. a
Guo, Y., Gasparrini, A., Armstrong, B. G., Tawatsupa, B., Tobias, A., Lavigne, E., Coelho, Z. S., Pan, X., Kim, H., Hashizume, M., Honda, Y., Guo , Y.-L. L., Wu, C.-F., Zanobetti, A., Schwartz, J. D., Bell, M. L., Scortichini, M., Michelozzi, P., Punnasiri, K., Li, S., Tian, L., Osorio, S., Garcia, D., Seposo, X., Overcenco, A., Zeka, A., Goodman, P., Dang, T. N., Van Dung, D., Mayvaneh, F., Hilario, P., Saldiva, N., Williams, G., and Tong, S.: Heat wave and mortality: a multicountry, multicommunity study, Environ. Health Perspect., 125, 087006, https://doi.org/10.1289/EHP1026, 2017. a
IPCC: Summary for Policymakers, in: Climate Change 2021: The Physical Science Basis, Contribution of Working Group I to the Sixth Assessment Report of the Intergovernmental Panel on Climate Change, edited by: Masson-Delmotte, V., Zhai, P., Pirani, A., Connors, S., Péan, C., Berger, S., Caud, N., Chen, Y., Goldfarb, L., Gomis, M., Huang, M., Leitzell, K., Lonnoy, E., Matthews, J., Maycock, T., Waterfield, T., Yelekci, O., Yu, R., and Zhou, B., Cambridge University Press, in press, https://www.ipcc.ch/report/ar6/wg1/chapter/summary-for-policymakers/ (last access: 20 December 2022), 2021. a
Jones, M. W., Smith, A., Betts, R., Canadell, J. G., Prentice, I. C., and Le Quéré, C.: Climate change increases risk of wildfires, Zenodo [report], https://doi.org/10.5281/zenodo.4570195, 2020. a
Kautz, L.-A., Martius, O., Pfahl, S., Pinto, J. G., Ramos, A. M., Sousa, P. M., and Woollings, T.: Atmospheric blocking and weather extremes over the Euro-Atlantic sector – a review, Weather Clim. Dynam., 3, 305–336, https://doi.org/10.5194/wcd-3-305-2022, 2022. a
Kay, J. E., Deser, C., Phillips, A., Mai, A., Hannay, C., Strand, G., Arblaster, J. M., Bates, S., Danabasoglu, G., Edwards, J., Holland, M., Kushner, P., Lamarque, J.-F., Lawrence, D., Lindsay, K., Middleton, A., Munoz, E., Neale, R., Oleson, K., Polvani, L., and Vertenstein, M.: The Community Earth System Model (CESM) large ensemble project: A community resource for studying climate change in the presence of internal climate variability, B. Am. Meteorol. Soc., 96, 1333–1349, 2015. a, b, c, d
Meehl, G. A. and Tebaldi, C.: More intense, more frequent, and longer lasting heat waves in the 21st century, Science, 305, 994–997, https://doi.org/10.1126/science.1098704, 2004. a, b
Miralles, D. G., Gentine, P., Seneviratne, S. I., and Teuling, A. J.: Land–atmospheric feedbacks during droughts and heatwaves: state of the science and current challenges, Ann. NY Acad. Sci., 1436, 19–35, https://doi.org/10.1111/nyas.13912, 2019. a
Perkins, S. E.: A review on the scientific understanding of heatwaves – Their measurement, driving mechanisms, and changes at the global scale, Atmos. Res., 164, 242–267, https://doi.org/10.1016/j.atmosres.2015.05.014, 2015. a
Perkins, S. E. and Alexander, L. V.: On the measurement of heat waves, J. Climate, 26, 4500–4517, https://doi.org/10.1175/JCLI-D-12-00383.1, 2013. a, b
Pfahl, S.: Characterising the relationship between weather extremes in Europe and synoptic circulation features, Nat. Hazards Earth Syst. Sci., 14, 1461–1475, https://doi.org/10.5194/nhess-14-1461-2014, 2014. a
Pfahl, S. and Wernli, H.: Quantifying the relevance of atmospheric blocking for co-located temperature extremes in the Northern Hemisphere on (sub-) daily time scales, Geophys. Res. Lett., 39, L12807, https://doi.org/10.1029/2012GL052261, 2012. a
Quinting, J. F., Parker, T. J., and Reeder, M. J.: Two Synoptic Routes to Subtropical Heat Waves as Illustrated in the Brisbane Region of Australia, Geophys. Res. Lett., 45, 10700–10708, https://doi.org/10.1029/2018GL079261, 2018. a
Rasmijn, L., Van der Schrier, G., Bintanja, R., Barkmeijer, J., Sterl, A., and Hazeleger, W.: Future equivalent of 2010 Russian heatwave intensified by weakening soil moisture constraints, Nat. Clim. Change, 8, 381–385, https://doi.org/10.1038/s41558-018-0114-0, 2018. a, b
Russo, S., Sillmann, J., and Fischer, E. M.: Top ten European heatwaves since 1950 and their occurrence in the coming decades, Environ. Res. Lett., 10, 124003, https://doi.org/10.1088/1748-9326/10/12/124003, 2015. a, b, c, d, e
Santos, J. A., Pfahl, S., Pinto, J. G., and Wernli, H.: Mechanisms underlying temperature extremes in Iberia: a Lagrangian perspective, Tellus A, 67, 26032, https://doi.org/10.3402/tellusa.v67.26032, 2015. a, b, c
Schaller, N., Sillmann, J., Anstey, J., Fischer, E. M., Grams, C. M., and Russo, S.: Influence of blocking on Northern European and Western Russian heatwaves in large climate model ensembles, Environ. Res. Lett., 13, 054015, https://doi.org/10.1088/1748-9326/aaba55, 2018. a, b
Schumacher, D. L., Keune, J., Van Heerwaarden, C. C., Vilà-Guerau de Arellano, J., Teuling, A. J., and Miralles, D. G.: Amplification of mega-heatwaves through heat torrents fuelled by upwind drought, Nat. Geosci., 12, 712–717, https://doi.org/10.1038/s41561-019-0431-6, 2019.  a, b, c
Seneviratne, S. I., Corti, T., Davin, E. L., Hirschi, M., Jaeger, E. B., Lehner, I., Orlowsky, B., and Teuling, A. J.: Investigating soil moisture–climate interactions in a changing climate: A review, Earth-Sci. Rev., 99, 125–161, https://doi.org/10.1016/j.earscirev.2010.02.004, 2010. a, b
Sousa, P. M., Trigo, R. M., Barriopedro, D., Soares, P. M., and Santos, J. A.: European temperature responses to blocking and ridge regional patterns, Clim. Dynam., 50, 457–477, https://doi.org/10.1007/s00382-017-3620-2, 2018. a
Sprenger, M. and Wernli, H.: The LAGRANTO Lagrangian analysis tool – version 2.0, Geosci. Model Dev., 8, 2569–2586, https://doi.org/10.5194/gmd-8-2569-2015, 2015. a, b
Stéfanon, M., Drobinski, P., D'Andrea, F., Lebeaupin-Brossier, C., and Bastin, S.: Soil moisture-temperature feedbacks at meso-scale during summer heat waves over Western Europe, Clim. Dynam., 42, 1309–1324, https://doi.org/10.1007/s00382-013-1794-9, 2014. a, b
UCAR: CESM Models – CESM1.0 PUBLIC RELEASE,, https://www2.cesm.ucar.edu/models/cesm1.0/ (last access: 20 December 2022), 2020. a
Vogel, M. M., Zscheischler, J., Fischer, E. M., and Seneviratne, S. I.: Development of future heatwaves for different hazard thresholds, J. Geophys. Res.-Atmos., 125, e2019JD032070, https://doi.org/10.1029/2019JD032070, 2020. a, b, c, d
Zampieri, M., Ceglar, A., Dentener, F., and Toreti, A.: Wheat yield loss attributable to heat waves, drought and water excess at the global, national and subnational scales, Environ. Res. Lett., 12, 064008, https://doi.org/10.1088/1748-9326/aa723b, 2017. a
Zschenderlein, P., Fink, A. H., Pfahl, S., and Wernli, H.: Processes determining heat waves across different European climates, Q. J. Roy. Meteorol. Soc., 145, 2973–2989, 2019. a, b, c, d, e, f, g, h, i, j, k, l, m, n, o, p, q, r, s, t, u
Zschenderlein, P., Pfahl, S., Wernli, H., and Fink, A. H.: A Lagrangian analysis of upper-tropospheric anticyclones associated with heat waves in Europe, Weather Clim. Dynam., 1, 191–206, https://doi.org/10.5194/wcd-1-191-2020, 2020. a
1
Under hydrostatic balance, an increase in the mean temperature of the 1000–500 hPa layer by 5 K leads to an increase in its thickness by about 100 m.
2
For comparison reasons, the typical difference in geopotential height between a high- and a low-pressure system such as the Azores high and the Icelandic low is on the order of about 10 %.