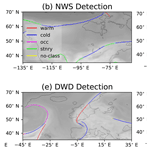 1

Institut für Informatik, Johannes Gutenberg-Universität Mainz, Staudingerweg 9, 55128 Mainz, Germany

2

Institut für Physik der Atmosphäre, Johannes Gutenberg-Universität Mainz, Johann-Joachim-Becher-Weg 21 , 55128 Mainz, Germany
Correspondence: Stefan Niebler (stnieble@uni-mainz.de)
Received: 20 May 2021 – Discussion started: 25 May 2021 – Revised: 08 Dec 2021 – Accepted: 09 Dec 2021 – Published: 01 Feb 2022
Automatic determination of fronts from atmospheric data is an important task for weather prediction as well as for research of synoptic-scale phenomena. In this paper we introduce a deep neural network to detect and classify fronts from multi-level ERA5 reanalysis data. Model training and prediction is evaluated using two different regions covering Europe and North America with data from two weather services. We apply label deformation within our loss function, which removes the need for skeleton operations or other complicated post-processing steps as used in other work, to create the final output. We obtain good prediction scores with a critical success index higher than 66.9 % and an object detection rate of more than 77.3 %. Frontal climatologies of our network are highly correlated (greater than 77.2 %) to climatologies created from weather service data. Comparison with a well-established baseline method based on thermodynamic criteria shows a better performance of our network classification. Evaluated cross sections further show that the surface front data of the weather services as well as our network classification are physically plausible. Finally, we investigate the link between fronts and extreme precipitation events to showcase possible applications of the proposed method. This demonstrates the usefulness of our new method for scientific investigations.
Atmospheric fronts are ubiquitous structural elements of extra-tropical weather. The term front refers to a narrow transition region between air masses of different density and/or temperature (see, e.g. Thomas and Schultz, 2019b). These air mass boundaries play an important role in understanding the dynamics of midlatitude weather and are usually related to clouds. Further fronts are often associated with significant weather, such as intense precipitation and high gust speeds (see, e.g. Catto and Dowdy, 2021; Catto et al., 2015; Martius et al., 2016). Hence, fronts in the sense of separating polar from more subtropical air masses play a vital part of the communication of weather to the public and the public perception of weather in general, although this aspect may have lost some attention due to the use of colourful apps. Frontal surfaces also exist on smaller scales, e.g. in the context of sea-breeze circulation or local circulation patterns in mountainous regions. Even tropical weather systems might indeed produce similar features of transition regions of different air masses, but due to other mechanisms than in extra-tropical weather systems. The focus here and in much of the literature is on larger-scale fronts that can extend over several hundred kilometres and are often associated with extra-tropical cyclones (Schemm et al., 2018). In addition, quasi-stationary fronts can also extend over a large distance, but they do not move strongly over time, e.g. the Mei-Yu front (e.g. Hu et al., 2021). These stationary fronts are also foci of significant surface weather. Unfortunately, there is no generally accepted front definition; see for example the discussion in Schemm et al. (2018) and Thomas and Schultz (2019a). Thus, the detection of fronts often relies on different measures, usually based on physical variables and including physical hypotheses or theories as detailed below. Additionally, it is still debated whether a front detection should be guided by determining surface fronts (such as on the analysis charts of weather services) or even more on the physical (horizontal and vertical) structure (see also the summary in Uccellini et al., 1992; Sanders, 1999).
Nevertheless, determining the position and propagation of surface fronts plays an important role in weather forecasting and, of course, in research on synoptic-scale phenomena. The traditional manual approach to front detection is based on the expertise of weather analysts at operational meteorological services, along some (mostly empirical) guidelines. With the advent of large, gridded datasets, e.g. reanalysis from different weather centres, such as ECMWF or NCEP, in the second half of the past century the drive for objective means to detect fronts automatically set in (see, e.g. Hewson and Titley, 2010). Currently used methods typically rely on detecting strong gradients in either temperature and humidity fields (e.g. by using equivalent potential temperature or wet-bulb temperature) or wind fields (Schemm et al., 2015). The former methodology goes back to the work by Renard and Clarke (1965) and is represented by Hewson (1998), who suggested an automatic method to detect fronts in fairly coarse datasets based on the so-called "thermal front parameters", derived from thermodynamic variables. In these and subsequent studies this is often related to the second spatial derivative of the temperature, and one or more "masking parameters", i.e. thresholds of thermal gradients along the front or in adjacent regions. This or conceptually similar methods have been used in numerous studies to determine the global or regional climatological distribution of fronts (e.g. Berry et al., 2011; Jenkner et al., 2010).
For the investigation of fronts on the Southern Hemisphere Simmonds et al. (2012) suggested an alternative approach that investigates the Eulerian time rate of change of wind direction and speed in the lower troposphere at a given location. A comparison of the two methods to identify fronts on a global climatological scale by Schemm et al. (2015) revealed some agreement between the fronts detected, but also regional difference and systematic biases in the detection of certain front types by both algorithms: for example, the "thermal" method more reliably detects warm fronts than the method based on lower tropospheric wind speed and direction. In addition, the orientation of detected fronts differs in general between the two methods. In consequence Schemm et al. (2015) also find differences in the global distribution of fronts and the amplitude of seasonal variations in front occurrence frequency.
While it is well known that different front detection methods provide different outputs (e.g. Schemm et al., 2015; Hope et al., 2014), an objective ground truth is difficult to find. Most studies developing or testing automatic detection schemes rely on manual analysis as the "gold standard" to test the accuracy and for tuning free parameters in the automatic detection schemes (e.g. Hewson, 1998; Berry et al., 2011; Bitsa et al., 2019). However, it should be noted that manual analysis is affected to a large degree by subjective decisions, and hence the focus, interest and expertise, of the person conducting the analysis. Shakina (2014) reports results from an inter-comparison study of different manual front analysis carried out independently in different divisions of the Russian meteorological service up until the 1990s. Comparing the different archives, agreement on the presence or absence of a front in any one box was found in 84.8 % of cases. However, if only the presence of fronts in any one grid box is considered, the agreement dropped to 23 % to 30 % depending on the type of front. Shakina (2014) further suggests that disagreement mainly arises from the detection and positioning of secondary or occluded fronts, which are typically associated with less marked changes in surface weather. It is likely that the differences between manual analysis by different forecasters in the meantime have not reduced, but they may potentially be reduced by strict guidelines for forecasters on the key decision features for positioning fronts.
Despite a non-negligible subjectivity of manual analysis, it still offers many advantages over automatic methods.
In contrast to most automatic detection methods, many different aspects, including temperature, wind, humidity fields, surface pressure, surface precipitation and wind, are taken into account.

Manual analysis does not rely strongly on the choice of (arbitrary) thresholds that are needed in most automatic front detection algorithms.

Experience of analysts can be taken into account, especially on regional scales (e.g. with complicated terrain such as in the Alps).
In order to address the over-reliance on specific variables, some recent studies have suggested methods that combine not only temperature and humidity data but also include information on the wind field (e.g. Ribeiro et al., 2016; Parfitt et al., 2017) or information on Eulerian changes in mean sea-level pressure (e.g. Foss et al., 2017). Nevertheless these extended algorithms that are so far mainly used in regional studies still rely on choosing appropriate thresholds for the magnitude of thermal gradients or changes in the wind direction and speed.
The necessity of manually designing metrics and selecting thresholds for automatic front detection can be at least partly overcome by employing statistical methods and machine learning approaches. The key idea with this approach is that based on manual analysis a complex statistical method retrieves as much consistent information on patterns, important variables and thresholds as is available in manual analyses and coinciding state of the atmosphere, e.g. from reanalysis datasets. Previous attempts at using machine learning approaches for front detection are discussed in more detail in the following section.
Bochenek et al. (2021) used a random forest to predict fronts over Europe using data from the German Weather Service (Deutscher Wetterdienst, DWD). Their results indicate that it is possible to detect fronts with this method; however it does not seem to be very robust, as the probability of object detection varies greatly between the shown samples.
Recently different groups have used artificial neural networks (ANNs) to predict frontal lines from atmospheric data. Biard and Kunkel (2019) used the MERRA-2 dataset to predict and classify fronts over the North American continent. Their network also classifies their predicted fronts using the four types: warm, cold and stationary fronts as well as occlusions. They used labels provided by the North American Weather Service (NWS).
Lagerquist et al. (2019) used the North American Regional Reanalysis (NARR) dataset (Mesinger et al., 2006) to predict synoptic cold and warm fronts over the North American continent also using the NWS labels. While the network of Biard and Kunkel (2019) creates an output on the input domain, the network of Lagerquist et al. (2019) predicts the probability for a single pixel and needs to be applied to each pixel consecutively. Both methods rely on post-processing steps like morphological thinning to create their final representation of frontal data. Additionally, both methods only use a 2D mask for each input variable, not making use of multiple pressure or height levels. Matsuoka et al. (2019) used a U-Net architecture (Ronneberger et al., 2015; Shelhamer et al., 2017) to predict stationary fronts located near Japan.
In this study we present a new method for automatic front detection based on machine learning using meteorological reanalysis as input data and trained with information on surface fronts provided by two different weather services (NWS and DWD). The overall aim is to investigate the degree to which machine learning approaches are able to replicate manual analysis on a case study and climatological scale and the degree to which the learned features are consistent with meteorological expectations on the physical properties characterizing a frontal surface. Our provided network uses the U-Net approach to predict and classify all four types of fronts and it does not require morphological post-processing. We evaluate our approach similar to Lagerquist et al. (2019) using an object-based evaluation method. Unlike the previous methods, we incorporate data from two different weather services, NWS and DWD, and also evaluate the two different regions covered by these datasets. We additionally compare our predicted fronts against the method developed by Schemm et al. (2015), using a thermal front parameter (TFP) as an example of a conventional automatic front detection method. We refer to it in the following as the "baseline method". As input data we use the ERA5 reanalysis data (Hersbach et al., 2020) from the European Centre for Medium-Range Weather Forecasts (ECMWF) on a 0.25∘ grid at multiple pressure levels for each variable. This dataset exhibits a higher resolution than the NARR data (32 km grid) used by Lagerquist et al. (2019) and MERRA-2 data (1∘ grid) used by Biard and Kunkel (2019). In contrast to these studies, we also used multiple pressure levels to refine our results.
Although we are aware of the conceptual differences between determining surface fronts and the complex 3D structure of fronts, we use the surface maps as a ground truth, i.e. as a proxy for the complex structures called fronts. However, in the later evaluation it turns out that the detected surface fronts represent the expected physical properties of air mass boundaries in a meaningful way.
In Sect. 2 we describe our used network architecture, data and evaluation methods. In Sect. 3 we explain our evaluation methods and display our evaluation results on the training and test dataset. In addition we showcase applications in terms of determining the variation in physical properties across fronts (Sect. 3.2) and relating fronts to extreme precipitation events (Sect. 3.3). We close with a summary of the study and a short outlook for future improvements as well as further applications of the new method for scientific purposes.
For each spatial grid point our proposed algorithm predicts a probability distribution, describing how likely it is that the point belongs to each of our possible five classes: warm front, cold front, occlusion, stationary front or background. Our method predicts that probability from a four-dimensional input consisting of multiple channels located on a three-dimensional multilevel geospatial grid, which was flattened to a three-dimensional input by combining the atmospheric channel and level dimension. For this task we use a convolutional neural network (CNN) architecture to automatically learn atmospheric features that correspond to the existence of a weather front at spatial grid points. We use a supervised learning approach, in which we provide ground truth data of frontal data sampled from two different weather services (surface fronts). We adjust hidden parameters of the CNN in order to optimize a loss function measuring the quality of our weather front prediction. CNN architecture and training will be explained in further detail in this section. Our network was implemented, trained and tested using Pytorch 1.6 (Paszke et al., 2019). Parallel multi-GPU training was implemented using Pytorch's DistributedParallel package. The provided code was run using Python 3.8.2 and is freely available (see below).
In this section we first evaluate the CSI of our network detections against the weather service data and compare the detections from the network to those from the baseline method (Sect. 3.1.1). We additionally create climatologies for both automatic methods and calculate the Pearson correlation against climatologies created from the weather service data (Sect. 3.1.3). Secondly, we present further results of our networks' output where we look into physical quantities across the frontal surface to infer physical plausibility of our network's detections. Finally, we evaluate the relation of fronts to extreme precipitation events to highlight a possible scientific application scenario for the presented method (Sect. 3.3).
3.1

 Performance evaluation and comparison against baseline
3.1.1

 Front detection quality

In Fig. 6 we provide an image showing an example of the networks' output compared to the label of the corresponding weather service. The image shows that the network tends to create thin fronts, as desired. The detections also appear to have a generally smoother shape compared to the weather service labels. The general shape of the fronts appears plausible, even though there are disagreements between the detections and labels regarding both the shape and class of fronts. For a better impression of the networks' output, we also provide a Video supplement showing the network output on a global scale (Niebler, 2021c). Further details are provided in Sect. S4.

To quantify the quality of our predictions, we evaluate the CSI, POD and SR for a matching radius of D=250 km on our test dataset. The results are listed in Tables 4 and 5 for the binary task, which only considers the classes front and no-front as well as the individual scores for each of the four frontal classes. As evaluation region we use the corresponding weather services' output region as defined in Table 2.
The scores show that the network excels at the pure front detection task with CSI scores of 66.9 % (DWD) or 68.3 % (NWS). At the same time the network evaluates with a POD and SR exceeding 77.3 %. POD tends to be higher than SR for the NWS data, while on the DWD data SR tends to be higher than POD. Considering individual front classes, the classification scores are overall lower, with a class CSI ranging between 36.4 % and 56.8 %. Across all tests, warm and stationary fronts appear to be harder to classify for the network than cold fronts or occlusions. This effect is more pronounced on the NWS dataset. A possible explanation is the lack of a clear distinction of these two front classes from the DWD data, which in return leads to more false classifications due to the ambiguity. We can further see that training on a single region does not provide a good generalization onto the other region, which is expressed by lower CSI scores when training on only the DWD (NWS) data and evaluating on the respective other region, i.e. NWS (DWD) data. At the same time training on both regions yields comparable scores as the networks trained on a single region. This clearly shows that using the network trained on both regions is preferable. We will therefore continue our evaluation with only this model. The difference between the regions may be originating in different synoptic structures of cyclones and their associated fronts over the North American continent and over the North Atlantic. This implies that the inclusion of further datasets, for example datasets used by Matsuoka et al. (2019) or generally data of the Southern Hemisphere, may improve the network performance even further. This would also be interesting with regard to a thorough evaluation of the network performance on the Southern Hemisphere. We want to point out here that the inclusion of additional training data of similar structure to the used NWS/DWD data can be carried out easily; the method is designed to be very flexible.
We also evaluated results where each object can only be matched against a single object of the corresponding class instead of the whole set. The resulting scores are listed in Tables S1 and S2. We observe a drop in POD from 77.3 (83.4) to 70.8 (76.9) when evaluating on DWD (NWS) data, while SR barely changes. This indicates that our network tends to not fully cover long frontal regions with a single front but rather multiple smaller, disjointed fronts. Each of these can still be matched with the long front, but the long front cannot be matched with any one of them due to their insufficient length, leading to the lower object detection rate. Interestingly, we also do not observe the same change in POD when only considering the classification scores. This further indicates that the previously mentioned fragmentation does not occur within the individual classes but rather at the transition between classes. When the weather service labels several fronts of different classes as connected, the generation of the binary label merges all these fronts into a single long front. If the network is then able to detect the individual fronts but does not detect them as connected, the conversion to the binary detection will result in several shorter fragments instead. A similar effect may occur if some parts of the long front are simply not detected at all. However, the low change in the classification scores indicates that the first effect is more pronounced. In the bottom row of Fig. 6 an example of such a fragmentation can be seen, where the network detects the central front as two separate fronts, while the provided label is a single connected front. Using the initially introduced matching method, where each front can be matched with the whole set of a class the fragmentation problem can be overcome. At the same time SR and classification scores are barely affected, which shows that this method is suitable for our task.
3.1.2

 Comparison against baseline

We additionally evaluated the CSI score on a coarser 0.5∘ resolution grid and compare the results against the baseline algorithm evaluated on the same grid. The used baseline does not classify its results, which is why we only display and compare the task of front detection and forgo any classification results. Due to the previously mentioned fragmentation issues, we only evaluate the results where each front may be matched against the complete set of fronts rather than just a single front object. The baseline algorithm is only designed for application in the midlatitudes and should not detect stationary fronts. Hence for this comparison we further restrict our evaluation region to fit within the midlatitudes of the Northern Hemisphere and remove stationary fronts from the labels and network output. There may be an offset between the placement of a front by the baseline and the weather services as the baseline locates its fronts at the centre of a passing front rather than the leading edge. While we believe that the used matching procedure already respects such a difference, we also evaluated the baseline method using D=500 km, i.e. doubling the search radius compared to that used in the evaluation of our network. As shown in Table 6, our network (NET) outperforms the baseline algorithm (baseline) in all evaluated scenarios and metrics with a CSI score more than twice as high when using D=250 km. Even when the baseline is evaluated with a larger search radius of D=500 km, the network outperforms it with a difference in CSI scores of more than 10 %, even though the network is still evaluated using the smaller search radius of D=250 km.
3.1.3

 Comparison of frontal climatologies

To further investigate the soundness of our front detection, we created frontal climatologies for the year 2016 for the provided weather service labels, our network and the baseline method. While the respective weather services only provide labels within their analysis region, both the network and the baseline can be executed on the entire globe. As in Sect. 3.1.2 we explicitly remove stationary fronts from both the NWS label dataset as well as the network output, when creating those climatologies. This is done as the baseline method does not include fronts propagating at less than 3 m s−1. The baseline method was designed for application within the midlatitudes, and results outside the midlatitudes should be taken with care. We therefore restrict our quantitative evaluation to regions within the midlatitudes. We nonetheless present the climatology on the global area to emphasize the difference in performance of the network compared to the baseline method outside the midlatitudes. The resulting climatologies are shown in Fig. 7.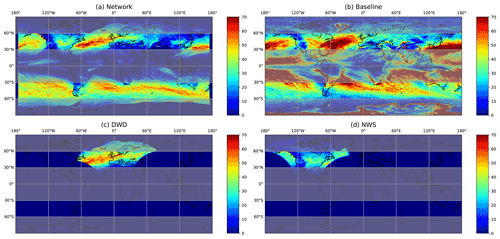 First, we compare the climatology for the North Atlantic–European region from the manually labelled dataset with the climatology of network-generated fronts. In the DWD climatology the North Atlantic storm track is clearly visible as a band of heightened front occurrence stretching from the East Coast of North America to the English Channel (Fig. 7c). Frontal activity tampers off inwards of the European west coast. The climatology of the network-generated fronts has a very similar overall structure with a strongly enhanced frontal frequency in the storm track region (Fig. 7a). Frontal frequency is somewhat larger at the beginning of the storm track compared to the DWD climatology. This may be related to the training with North American manual analysis, which naturally has a stronger focus on the early cyclone life cycle than the European data. Over the English Channel and North Sea coast of Europe, frontal frequency in the network-generated dataset is somewhat lower than in the DWD dataset, which may be related to the inclusion of stationary fronts in the latter but not the former. We have also seen in the previous section that very weak warm fronts, as may exist further into the European continent, are often not detected by the network. In both datasets a slightly enhanced frontal frequency around Iceland is evident.
Next, we compare the climatology for the North American region from the manually labelled dataset with the climatology of network-generated fronts. The manual labels indicate the onset of the storm track with enhanced frontal frequencies just off the North American East Coast and secondary peaks in frontal frequencies in the lee of the Rocky Mountains and along the West Coast (Fig. 7d). The climatology of network-generated fronts captures all three maxima in the frontal frequency in roughly the same location (Fig. 7a). However, frontal frequency in the lee of the Rocky Mountains and along the West Coast is more pronounced in the network-generated climatology. We are under the impression that the network tends to assign labelled warm fronts as stationary and vice versa. These shifts may explain the different frontal frequency.
Finally, we compare the global climatology of network-generated front labels to those generated by the baseline algorithm (compare Fig. 7a and b). The striking first difference between the two climatologies is the much larger spatial extent of regions with high frontal frequency in the second dataset. This is evident both in the storm track regions on both hemispheres and in the subtropical regions. In the subtropics, regions of large gradients in equivalent potential temperature exist, and these are picked up by the baseline algorithm. However, their structure and origin differ from fronts in the extratropics. It appears that the network is able to detect this difference in the structure, while focusing solely on equivalent potential temperature and frontal propagation speed is not enough information to differentiate these structures.
In absence of any manual dataset that can serve as ground truth, it is difficult to judge the physical meaningfulness of the climatological patterns emerging from either algorithm and indeed in the case of the subtropics may strongly depend on the purpose and definition of what is considered a frontal structure. In the storm track regions on both hemispheres both datasets show consistently enhanced frontal frequencies over similar geographic regions. They only differ in the zonal extent of the regions with enhanced activity and the absolute values of frontal frequencies. In the only region where we have an independent manually generated dataset often considered as the "ground truth", the climatology of network-generated fronts is in closer agreement with the former than the climatology from the baseline algorithm. For the Southern Hemisphere or the North Pacific, we currently do not have any such dataset available.
The second striking difference is the high frontal frequency along orographic barriers in the climatology from the baseline algorithm, i.e. along the Andes, Greenland, Himalayas and Antarctic coastline. These maxima in frontal activity are largely absent from the climatology of network-generated fronts consistent with the manually labelled datasets. It appears that the network correctly discriminates between temperature and humidity gradients arising only because of the presence of significant topography and those caused by dynamically generated air mass boundaries. In contrast, focusing solely on the advection speeds in regions of large equivalent potential temperature gradients seems not to suffice.
Overall, the global picture emerging from the extrapolation of the network trained on the North American, North Atlantic and European domain also performs well on a global scale and correctly identifies regions of high frontal activity expected from previous investigations and the known general circulation patterns. While physically plausible, this is of course no vigorous evaluation of the performance of the extrapolation to different regions of the globe. Future work should investigate this aspect in a more quantitative manner with manually labelled datasets from other parts of the globe. However, overall the investigation of the front climatology agrees well with physically expected patterns and climatologies from manually generated frontal datasets. This lends additional physical credibility to the network-generated frontal labels.
A physically plausible global climatological pattern further suggests that the learned frontal identification can be extrapolated from the training region. We found that for this it is necessary to include data from two sufficiently different geographic regions, i.e. North America and North Atlantic–Europe, as well as to augment the dataset by also including zonally mirrored examples of the frontal cases (not shown). The latter was found to be particularly important for a good performance in the Southern Hemisphere. This is also visible in the Video supplement, where the general shape, composition and motion of fronts detected in the Southern Hemisphere appear plausible. At first the qualitatively good results on the Southern Hemisphere appear to contradict our claim in the previous section, that training on a single region is insufficient of extrapolation to other regions. However, we believe that this is due to the fact that this region is mostly covered by sea. As a result there is far less orographic influence in the southern regions. As such the simple mirroring of data from the North Atlantic may be sufficient to learn a seemingly good model for the sea-covered regions of the Southern Hemisphere. Nonetheless this is only a qualitative observation that needs to be explicitly evaluated, if appropriate data are available.
To quantify the former qualitative discussion of the climatologies, we evaluated the Pearson correlation coefficient of the created climatologies within the regions described in Table 7. The resulting correlation coefficients, provided in Table 8, show that our network outperforms the baseline algorithm in both regions with correlation coefficients greater than 77.2 %. For both regions the network results are more than 10 % higher than those of the baseline. This effect is more pronounced on the DWD dataset, which might be caused by the ambiguity of stationary fronts.
3.2

 Variation in physical variables across frontal surfaces

In the previous section we showed that our proposed network can reliably detect fronts as they are provided by the weather services. In this chapter we evaluate various physical quantities across the detected frontal zone qualitatively, to assess whether or not the detected fronts express plausible physical features. Since some automatic methods such as the baseline method rely on gradients of certain thermodynamic variables, we investigate these variables for the fronts detected by our network. Thus, we can evaluate whether these fronts are detected in a completely different way or feature similar frontal characteristics as those detected by the thermodynamic methods or manual analysis.

For this purpose, we create cross sections perpendicular to the frontal surface for each pixel that corresponds to a front in four steps:
estimate the direction normal vector of the front at the given point,

sample points in the normal direction centred at the given point on the front,

calculate the mean wind direction along the sampled points,

use the sign of the dot product of the mean wind direction vector and the normal front vector to sort the sampled points along wind direction.
These cross sections are computed at the 850 hPa level, since the TFP methods are usually based on variables on this level. For the comparison with the thermodynamic front detection methods, we use the variable equivalent potential temperature (θe). Additionally, the variables temperature, relative humidity and (absolute) wind speed are chosen, showing important features of different front types. These variables are taken from the ERA5 dataset, while the position of the fronts is determined by our network or the weather service analyses. We used MetPy v1.0.1 to derive θe and the relative humidity (May et al., 2021). We further used GeoPy v2.2.0 (https://github.com/geopy/geopy, last access: 17 January 2022) to calculate the position of our sample points.
The mean cross section for the DWD frontal dataset is presented in Figs. 8 and 9. The corresponding plots for the NWS front dataset are shown in the Supplement (Figs. S2 and S3). In Fig. 8a we evaluated the variation in equivalent potential temperature (θe) at 850 hPa based on front locations (i) identified by the machine learning algorithm (dashed lines) and (ii) indicated in the surface analysis from the DWD (solid lines). For both front location datasets θe is clearly increasing (decreasing) across the frontal surface for cold (warm) fronts, as would be expected from the physical definition of these features. For the identified cold fronts the across-frontal temperature variation is on average larger than for the DWD labels. For warm fronts the across-frontal change in θe is similar for both detections, albeit the decrease ahead of the passing front is stronger for the machine learning detections. Warm fronts identified by DWD are on average located at slightly cooler temperatures. This may be explained by the assignment of some warm fronts with weak temperature gradients to the additional category of stationary fronts by our machine learning algorithm, a category non-existent in the DWD dataset. For occluded fronts there is only a small across-frontal variation in θe as could be expected, and again this is consistent across both datasets.
For most automatic front detection algorithms the across-frontal θe gradient is of importance; this quantity is shown in Fig. 8b. The θe gradient is calculated using finite differences using the sampled temperature cross sections. Again we see very similar patterns for both the DWD and our front dataset. In both datasets the frontal surface is located at the onset of a region with strong change in the horizontal θe gradient. This is consistent with the physical definition of frontal zones and agrees with the manually designed automatic front detection algorithms. Generally the network-detected fronts exhibit a stronger gradient compared to those in the weather service analysis for all types of front. Taking the gradient of the θe gradient (see Fig. 8c), we obtain a magnitude similar to the TFP, where the direction is defined by the normal of our detected front with respect to the wind direction instead of the 2D gradient of θe. For simplicity we will refer to it as approximate TFP in the following.
Several conventional methods place the front at the position where the gradient of the TFP is zero. We can clearly see this for the provided DWD labels, where all three types of front have a minimum of the approximate TFP at the frontal position. For cold fronts our networks' placement seems to agree with this. For stationary fronts the signal is less clear, but the front also appears to be located at the extremum of the approximate TFP. Differently, warm fronts and occlusions are placed with an offset of approximately 60 km to the extremum of the approximate TFP. Nonetheless we also believe that this offset is reasonable. This shows that both our used labels and the network's detections are plausible with respect to the theoretical background used for TFP methods.
As mentioned before, fronts are typically placed where the gradient of the TFP equals zero, which is thought to describe the leading edge of a front, such as it occurs with the weather service labels. The used baseline method however is different in that regard as it locates a front where the TFP equals zero, which corresponds to the centre of the frontal area. This of course creates an inherent offset in the front position. Following our evaluation as described above, we can estimate this offset is approximately 130 km (80 km) for warm (cold) fronts. Note that both distances are lower than the evaluation distances of 250 and 500 km used for the computation of performance scores in the preceding section. This highlights that the difference in CSI should not be fully accounted for by methodological difference but rather supports our statement that the network is better at the detection and placement of fronts than the baseline.
In Fig. 9 we additionally show the temperature (b), relative humidity (c) and absolute wind speed (d) across the frontal zone. The temperature variation across the frontal zone is quite similar for network- and weather-service-detected fronts and is physically reasonable. For instance, the temperature difference for warm and cold fronts is clearly visible; also, the values agree quite well. For the relative humidity, there are some differences in the absolute values; the network-detected fronts usually have enhanced relative humidity values. However, qualitatively the variation in relative humidity across the frontal zone is well captured. For warm fronts, and also occlusions, there is a pronounced maximum in RH ahead of the front, which indicates the typical frontal cloudiness. A similar signature can be seen for cold fronts, where the maximum is only slightly shifted relative to the surface front position. For the absolute wind speed, we see similar values for the different fronts (detected by network and weather services), but no pronounced structure. Note here that the mean absolute wind speed for stationary fronts is quite high (–8 m s−1) compared to the threshold criterion used by the TFP method. However, the standard deviation is also quite high (). A reason for this might be that the position of stationary fronts is not well captured by the network (also because they are only available in the NWS training dataset). Due to the uncertain position, the mean values are smeared out over a large range around the detected position. Nevertheless, the absolute wind speed at stationary fronts is much smaller than the wind speed at the others, which matches with the physical expectation that stationary fronts are moving quite slow – a feature still well captured by the network.
When comparing the frontal zone structure over North America according to NWS labels and our generated labels, generally consistent structures are also found (see Supplement), with deviations broadly mirroring those identified for the DWD data.
Overall, from the good agreement in physical structures across the identified frontal surfaces as detected by our algorithm and from the manual weather service analysis, we conclude that our algorithm detects physically meaningful positions. The positioning of the frontal surfaces is further consistent with physical intuition and interpretation prevalent in literature, and also with the physical constrains for the detection of fronts by an automatic method based on thermodynamic variables.
We can finally remark that even using the surface front as a proxy for the synoptic-scale phenomena front (as transition of air masses), the related structures for either the fronts manually determined by the weather services or automatically determined by our network are physically meaningful. This analysis shows that indeed we can use surface fronts as a ground truth for the detection of fronts in reanalysis datasets.
3.3

 Correlation to extreme precipitation events

In the previous section we showed that our model detects fronts in accordance with physical expectations. We further showed that our method generally agrees with the theory of TFP methods, further demonstrating that our model predicts physically plausible fronts. In this chapter we will further validate our results and at the same time provide an example of how our proposed method may be applied in a scientific context aside from pure front detection for operational weather forecasts. To do this we evaluate how weather fronts as detected by our network are connected to extreme precipitation. We present the results (i) for the occurrence of extreme precipitation if there is already a front (Sect. 3.3.2), and (ii) for the presence of a front if an extreme event occurs at a grid point (Sect. 3.3.4).
Atmospheric fronts are important features that are usually associated with synoptic-scale weather systems. Since fronts are usually connected with significant weather, e.g. clouds and precipitation, and occasionally with extreme precipitation events, they are of high interest for weather forecasts but also in terms of scientific research of such events. While the term front refers to a sharp transition between air masses of different characteristics (e.g. in terms of temperature and humidity), there is unfortunately not a generally accepted definition of a front. This is also reflected in many different approaches to detect fronts automatically, e.g. using (multiple) gradients of thermodynamic variables, or even recently using machine learning techniques.
In this study we present a new method for automatic front detection based on a neural network, which uses ERA5 reanalysis data. As a ground truth for training and validation, we use surface front data from two different weather services (NWS and DWD) covering significant parts of the Northern Hemisphere; for validation a disjoint subset of this dataset is used. We train the network on a loss function that allows to classify and predict fronts across the input regions. Our applied loss function results in the network predicting clearly localized fronts without the need of morphological post-processing thinning operations. The network is able to predict fronts with a critical success rate higher than about 66.9 % and an object detection rate higher than about 77 %.
For a better evaluation of the quality of the method, we compare the network output with a baseline method, which uses a traditional approach operating on thermodynamic variables (TFP approach). For both methods a climatology of fronts is derived. In this direct comparison, the new method outperforms the baseline method in the direct comparison with the data from the weather services. We can show that we cannot simply transfer a locally trained network onto any other region but rather need to train on several datasets to obtain a reliable general front detection. The climatology results indicate that a transfer to oceanic regions may be feasible; however this has to be evaluated in future research. It is also desirable to further investigate up to which degree extrapolation onto different regions is possible and to investigate whether or not generalization onto global data is possible from just a few subregions.
The evaluation of physical properties relative to the network-detected fronts shows that our detected fronts generally exhibit similar properties as those usually looked for in classical methods. As an example gradients in the equivalent potential temperature are shown. In addition, a similar quantity as for classical TFP methods is determined from equivalent potential temperature. In the comparison of these quantities relative to fronts determined by the weather services and detected by the network, we find very good agreement; in addition, they exhibit the same features as would be detected by a TFP method. This also shows that our ground truth data, surface fronts originating from two weather services, are a suitable choice; although surface fronts are detected, they show the correct structure in terms of thermodynamic variables. Thus, surface fronts can serve as a proxy for the detection of fronts; however our analysis shows that the resulting fronts are meaningful.
In a final application, we investigate the connection of fronts with extreme precipitation events. This investigation is guided by the former investigation by Catto and Pfahl (2013); however, our network allows us to fully use the available resolution of ERA5 and to investigate characteristics of fronts at a high spatial and temporal resolution, leading to a more detailed investigation. For the midlatitudes the connection between extreme precipitation events and front occurrence is found to be most prominent, with the strongest correlation over flat terrain, especially over the ocean. This application shows that our new front detection method is not only just a tool for operational weather forecasting but also useful for scientific investigations. Since the method can be applied to high-resolution data, this is a clear benefit of the new method over existing TFP methods, which are usually restricted to low-resolution datasets or heavily rely on smoothing operators. In addition, the method is quite flexible, and it is quite straightforward to include new training datasets, such as surface fronts for the Southern Hemisphere. In addition, there is no principle obstacle for using meteorological datasets with higher resolution as input for the method.
In future work separating the detection from the classification task may be beneficial, seeing the good detection rates of the presented network in the binary case. We would also like to further explore the application and effect of other methods to handle the label bias, such as the method described by Acuna et al. (2019). In terms of research in the field of meteorology, we want to apply this method for further research on the connection of frontal systems with other phenomena, e.g. for the investigation of clouds at different heights around fronts or transport phenomena associated with frontal systems.
Code and data availability
SN implemented and trained the network. He also evaluated the baseline method as well as the network. BS, AM, PS, and SN wrote the draft of the paper. BS, AM, and PS proposed and supervised the project. All authors edited the paper and analysed the results.
The contact author has declared that neither they nor their co-authors have any competing interests.
Publisher's note: Copernicus Publications remains neutral with regard to jurisdictional claims in published maps and institutional affiliations.
The study is supported by the project "Big Data in Atmospheric Physics (BINARY)", funded by the Carl Zeiss Foundation (grant P2018-02-003). We acknowledge the ECMWF for providing access to the ERA5 reanalysis data. We further acknowledge ETH Zurich and especially Michael Sprenger for providing the code for the used baseline method. Label data for the European continent and North Atlantic were provided by the Deutscher Wetterdienst. Label data for the North American continent were provided and made publicly available by the North American Weather Service. We further acknowledge the ZDV of the Johannes Gutenberg University and the Mogon II Super Cluster for providing the necessary hardware and computing time to execute our experiments. We thank Philipp Reutter, Michael Wand and Holger Tost for fruitful discussions.
This research has been funded by the Carl-Zeiss-Stiftung (grant no. P2018-02-003).
This paper was edited by Lukas Papritz and reviewed by two anonymous referees.
Acuna, D., Kar, A., and Fidler, S.: Devil is in the Edges: Learning Semantic Boundaries from Noisy Annotations, in: Proceedings of the IEEE/CVF Conference on Computer Vision and Pattern Recognition, 11075–11083, 2019. a
Berry, G., Reeder, M. J., and Jakob, C.: A global climatology of atmospheric fronts, Geophys. Res. Lett., 38, L04809, https://doi.org/10.1029/2010GL046451, 2011. a, b
Biard, J. C. and Kunkel, K. E.: Automated detection of weather fronts using a deep learning neural network, Adv. Stat. Clim. Meteorol. Oceanogr., 5, 147–160, https://doi.org/10.5194/ascmo-5-147-2019, 2019. a, b, c, d, e
Bitsa, E., Flocas, H., Kouroutzoglou, J., Hatzaki, M., Rudeva, I., and Simmonds, I.: Development of a Front Identification Scheme for Compiling a Cold Front Climatology of the Mediterranean, Climate, 7, 130, https://doi.org/10.3390/cli7110130, 2019. a
Bochenek, B., Ustrnul, Z., Wypych, A., and Kubacka, D.: Machine Learning-Based Front Detection in Central Europe, Atmosphere, 12, 1312, https://doi.org/10.3390/atmos12101312, 2021. a
Brooks, H. E.: Tornado-Warning Performance in the Past and Future: A Perspective from Signal Detection Theory, B. Am. Meteorol. Soc., 85, 837–844, https://doi.org/10.1175/BAMS-85-6-837, 2004. a
Catto, J. and Dowdy, A.: Understanding compound hazards from a weather system perspective, Weather and Climate Extremes, 32, 100 313, https://doi.org/10.1016/j.wace.2021.100313, 2021. a
Catto, J., Madonna, E., Joos, H., Rudeva, I., and Simmonds, I.: Global Relationship between Fronts and Warm Conveyor Belts and the Impact on Extreme Precipitation, J. Climate, 28, 8411–8429, https://doi.org/10.1175/JCLI-D-15-0171.1, 2015. a
Catto, J. L. and Pfahl, S.: The importance of fronts for extreme precipitation, J. Geophys. Res.-Atmos., 118, 10791–10801, https://doi.org/10.1002/jgrd.50852, 2013. a, b, c, d, e, f, g, h, i, j, k
DWD – Deutscher Wetterdienst: Deutscher Wetterdienst Webpage, available at: https://www.dwd.de/, last access: 15 December 2021. a, b
ECMWF: L137 model level definitions, available at: https://www.ecmwf.int/en/forecasts/documentation-and-support/137-model-levels, last access: 18 May 2021. a
Foss, M., Chou, S. C., and Seluchi, M. E.: Interaction of cold fronts with the Brazilian Plateau: a climatological analysis, Int. J. Climatol., 37, 3644–3659, https://doi.org/10.1002/joc.4945, 2017. a
Hersbach, H., Bell, B., Berrisford, P., Hirahara, S., Horányi, A., Muñoz-Sabater, J., Nicolas, J., Peubey, C., Radu, R., Schepers, D., Simmons, A., Soci, C., Abdalla, S., Abellan, X., Balsamo, G., Bechtold, P., Biavati, G., Bidlot, J., Bonavita, M., De Chiara, G., Dahlgren, P., Dee, D., Diamantakis, M., Dragani, R., Flemming, J., Forbes, R., Fuentes, M., Geer, A., Haimberger, L., Healy, S., Hogan, R. J., Hólm, E., Janisková, M., Keeley, S., Laloyaux, P., Lopez, P., Lupu, C., Radnoti, G., de Rosnay, P., Rozum, I., Vamborg, F., Villaume, S., and Thépaut, J.-N.: The ERA5 global reanalysis, Q. J. Roy. Meteor. Soc., 146, 1999–2049, https://doi.org/10.1002/qj.3803, 2020. a, b
Hewson, T. D.: Objective fronts, Meteorol. Appl., 5, 37–65, https://doi.org/10.1017/S1350482798000553, 1998. a, b
Hewson, T. D. and Titley, H. A.: Objective identification, typing and tracking of the complete life-cycles of cyclonic features at high spatial resolution, Meteorol. Appl., 17, 355–381, https://doi.org/10.1002/met.204, 2010. a
Hope, P., Keay, K., Pook, M., Catto, J., Simmonds, I., Mills, G., McIntosh, P., Risbey, J., and Berry, G.: A Comparison of Automated Methods of Front Recognition for Climate Studies: A Case Study in Southwest Western Australia, Mon. Weather Rev., 142, 343–363, https://doi.org/10.1175/MWR-D-12-00252.1, 2014. a
Hu, Y., Deng, Y., Lin, Y., Zhou, Z., Cui, C., and Dong, X.: Dynamics of the spatiotemporal morphology of Mei-yu fronts: an initial survey, Clim. Dynam., 56, 2715–2728, https://doi.org/10.1007/s00382-020-05619-2, 2021. a
Jakob, W., Rhinelander, J., and Moldovan, D.: pybind11 – Seamless operability between C++11 and Python, GitHub [code], https://github.com/pybind/pybind11 (last access: 17 January 2022), 2017. a
Jenkner, J., Sprenger, M., Schwenk, I., Schwierz, C., Dierer, S., and Leuenberger, D.: Detection and climatology of fronts in a high-resolution model reanalysis over the Alps, Meteorol. Appl., 17, 1–18, https://doi.org/10.1002/met.142, 2010. a, b, c, d
Lagerquist, R., McGovern, A., and II, D. J. G.: Deep Learning for Spatially Explicit Prediction of Synoptic-Scale Fronts, Weather Forecast., 34, 1137–1160, https://doi.org/10.1175/WAF-D-18-0183.1, 2019. a, b, c, d, e, f, g, h, i
Martius, O., Pfahl, S., and Chavalier, C.: A global quantification of compound precipitation and wind extremes, Geophys. Res. Lett., 43, 7709–7717, https://doi.org/10.1002/2016GL070017, 2016. a
Matsuoka, D., Sugimoto, S., Nakagawa, Y., Kawahara, S., Araki, F., Onoue, Y., Iiyama, M., and Koyamada, K.: Automatic Detection of Stationary Fronts around Japan Using a Deep Convolutional Neural Network, SOLA, 15, 154–159, https://doi.org/10.2151/sola.2019-028, 2019. a, b, c, d
May, R. M., Arms, S. C., Marsh, P., Bruning, E., Leeman, J. R., Goebbert, K., Thielen, J. E., Bruick, Z. S., and Camron, M. D.: MetPy: A Python Package for Meteorological Data, UCAR [code], https://doi.org/10.5065/D6WW7G29, 2021. a
Mesinger, F., DiMego, G., Kalnay, E., Mitchell, K., Shafran, P. C., Ebisuzaki, W., Jović, D., Woollen, J., Rogers, E., Berbery, E. H., Ek, M. B., Fan, Y., Grumbine, R., Higgins, W., Li, H., Lin, Y., Manikin, G., Parrish, D., and Shi, W.: North American Regional Reanalysis, B. Am. Meteorol. Soc., 87, 343–360, https://doi.org/10.1175/BAMS-87-3-343, 2006. a
National Weather Service: National Weather Service Coded Surface Bulletins, 2003-, Zenodo [data set], https://doi.org/10.5281/zenodo.2642801, 2019. a, b
Niebler, S.: Front polylines extracted from DWD Maps, Zenodo [data set], https://doi.org/10.5281/zenodo.5785816, 2021a. a
Niebler, S.: FrontDetection, Zenodo [code], https://doi.org/10.5281/zenodo.5783934, 2021b. a
Niebler, S.: Detected Fronts January 2016, TIB-AV Portal, https://doi.org/10.5446/54716, 2021c. a, b, c
Parfitt, R., Czaja, A., and Seo, H.: A simple diagnostic for the detection of atmospheric fronts, Geophys. Res. Lett., 44, 4351–4358, https://doi.org/10.1002/2017GL073662, 2017. a
Paszke, A., Gross, S., Massa, F., Lerer, A., Bradbury, J., Chanan, G., Killeen, T., Lin, Z., Gimelshein, N., Antiga, L., Desmaison, A., Kopf, A., Yang, E., DeVito, Z., Raison, M., Tejani, A., Chilamkurthy, S., Steiner, B., Fang, L., Bai, J., and Chintala, S.: PyTorch: An Imperative Style, High-Performance Deep Learning Library, in: Advances in Neural Information Processing Systems 32, edited by Wallach, H., Larochelle, H., Beygelzimer, A., d'Alché-Buc, F., Fox, E., and Garnett, R., 8024–8035, Curran Associates, Inc. [code], http://papers.neurips.cc/paper/9015-pytorch-an-imperative-style-high-performance-deep-learning-library.pdf (last access: 17 January 2022), 2019. a
Pfahl, S. and Wernli, H.: Quantifying the Relevance of Cyclones for Precipitation Extremes, J. Climate, 25, 6770–6780, https://doi.org/10.1175/JCLI-D-11-00705.1, 2012. a
Renard, R. J. and Clarke, L. C.: Experiments In Numerical Objective Frontal Analysis, Mon. Weather Rev., 93, 541–556, 1965. a
Ribeiro, B. Z., Seluchi, M. E., and Chou, S. C.: Synoptic climatology of warm fronts in Southeastern South America, Int. J. Climatol., 36, 644–655, https://doi.org/10.1002/joc.4373, 2016. a
Ronneberger, O., Fischer, P., and Brox, T.: U-Net: Convolutional Networks for Biomedical Image Segmentation, in: International Conference on Medical image computing and computer-assisted intervention, Springer, 234–241, 2015. a, b
Sanders, F.: A proposed method of surface map analysis, Mon. Weather Rev., 127, 945–955, https://doi.org/10.1175/1520-0493(1999)127<0945:APMOSM>2.0.CO;2, 1999. a
Schemm, S., Rudeva, I., and Simmonds, I.: Extratropical fronts in the lower troposphere – global perspectives obtained from two automated methods, Q. J. Roy. Meteor. Soc., 141, 1686–1698, https://doi.org/10.1002/qj.2471, 2015. a, b, c, d, e, f
Schemm, S., Sprenger, M., and Wernli, H.: When During Their Life Cycle Are Extratropical Cyclones Attended By Fronts?, B. Am. Meteorol. Soc., 99, 149–166, https://doi.org/10.1175/BAMS-D-16-0261.1, 2018. a, b
Schulzweida, U.: CDO User Guide, Zenodo [code], https://doi.org/10.5281/zenodo.3539275, 2019. a
Seabold, S. and Perktold, J.: statsmodels: Econometric and statistical modeling with python, in: 9th Python in Science Conference, Austin, TX, 61 pp., 2010. a
Shakina, N. P.: Identification of zones of atmospheric fronts as a problem of postprocessing the results of numerical prediction, Russ. Meteorol. Hydro+, 39, 1–10, https://doi.org/10.3103/S1068373914010014, 2014. a, b
Shelhamer, E., Long, J., and Darrell, T.: Fully Convolutional Networks for Semantic Segmentation, IEEE T. Pattern Anal., 39, 640–651, https://doi.org/10.1109/TPAMI.2016.2572683, 2017. a
Simmonds, I., Keay, K., and Bye, J. A. T.: Identification and Climatology of Southern Hemisphere Mobile Fronts in a Modern Reanalysis, J. Climate, 25, 1945–1962, https://doi.org/10.1175/JCLI-D-11-00100.1, 2012. a
Thomas, C. M. and Schultz, D. M.: Global Climatologies of Fronts, Airmass Boundaries, and Airstream Boundaries: Why the Definition of "Front" Matters, Mon. Weather Rev., 147, 691–717, https://doi.org/10.1175/MWR-D-18-0289.1, 2019a. a
Thomas, C. M. and Schultz, D. M.: What are the Best Thermodynamic Quantity and Function to Define a Front in Gridded Model Output?, B. Am. Meteorol. Soc., 100, 873–896, https://doi.org/10.1175/BAMS-D-18-0137.1, 2019b. a
Uccellini, L., Corfidi, S., Junker, N., Kocin, P., and Olson, D.: Report On The Surface-Analysis Workshop Held At The National-Meteorological-Center – 25–28 March 1991, B. Am. Meteorol. Soc., 73, 459–472, 1992. a
1
A tuning of the method for the 0.25∘ resolution was not possible, since features on small scales disturb the evaluation of the gradients.